Win sets up Dutch govt for fourth term
By EARLE GALE in London | China Daily | Updated: 2021-03-19 07:53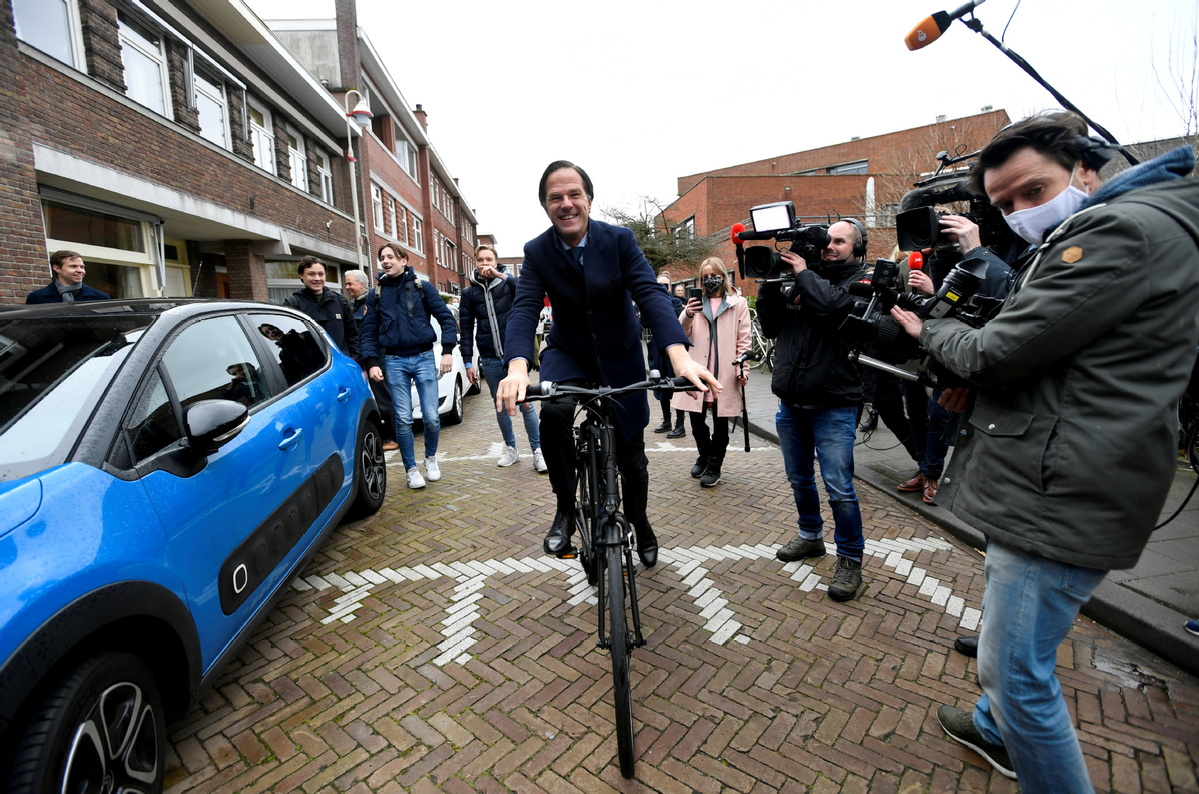 The ruling center-right People's Party for Freedom and Democracy will continue to run the Netherlands after winning the most seats in a general election for the fourth consecutive time.
The party, which is known as the VVD, will now talk to the election's other big winner, the centrist pro-European D66 party led by former United Nations diplomat Sigrid Kaag, about forming a coalition government, The Associated Press news agency reported.
Prime Minister Mark Rutte, who will almost certainly remain in office, said voters had given his party "an overwhelming vote of confidence" that was "humbling".
"It is also forcing us to do everything we can to make a success out of it," he said."The agenda ahead of us is enormous. In the coming weeks and months, we have to lead the Netherlands through the corona crisis."
The election was held amid the country's novel coronavirus lockdown and was dominated by the Netherlands' response to the pandemic. The election allowed people to leave their homes after 9 pm for the first time since January, and many took the opportunity to cast their ballots, with turnout at around 83 percent.
The Guardian newspaper noted the nation has been plagued by anti-lockdown rioting in recent weeks and the restrictions meant most campaigning and debating was carried out on television.
Turbulent years
The Times quoted Rutte as acknowledging his four terms as prime minister spanned some turbulent years, which have included not only the pandemic but also the migration crisis, and Brexit.
"I've been taking responsibility for the past 10 years," he told reporters in Parliament."I'm trying to govern in difficult circumstances."
But, despite the challenges, he insisted he has "the energy for another 10 years".
The Netherlands has a splintered political landscape and at least 16 political parties out of the 37 taking part in the proportional representation vote on Wednesday were likely to have won at least one seat in the 150-seat Parliament.
The large number of players will likely make talks around the exact composition of the ruling coalition difficult, the BBC reported, although The Times newspaper said Rutte's coalition will likely comprise three political parties.
The Netherlands national news agency ANP said on Thursday Rutte's VVD party was on course to win at least 35 seats, which was two more than at the last election, and D66 was set to win five more than last time, taking its haul to 24.
The election was triggered by the resignation of the former ruling coalition two months ago, after a crisis that followed the tax office wrongly using the term "fraudsters" to describe thousands of families that had claimed child welfare benefits.